AVAILABLE NOW!   http://dirtypilot.myshopify.com/products/daniel-johnston-is-it-real-to-be-dead-print

NEW Daniel Johnston Print. Titled "Is It Real To Be Dead" this archival pigment print measures 13"x16.5. Printed on Moab 300gms fine art paper with a hand deckled edge. From an edition of only 90. Hand signed in pencil by Daniel.
What is astounding about Daniel's work is the fact that he is an absolute unending wellspring of creativity, the likes of which I have never witnessed before. No creative blocks here. What he thinks and feels gushes out on to the paper, or into a song. But, perhaps the most incredible part of the story is that all of the superlatives that have been used in describing how wonderful his music is can also be used for his artwork. PRE-SALE Price $60- Reg price after August 1st – $80.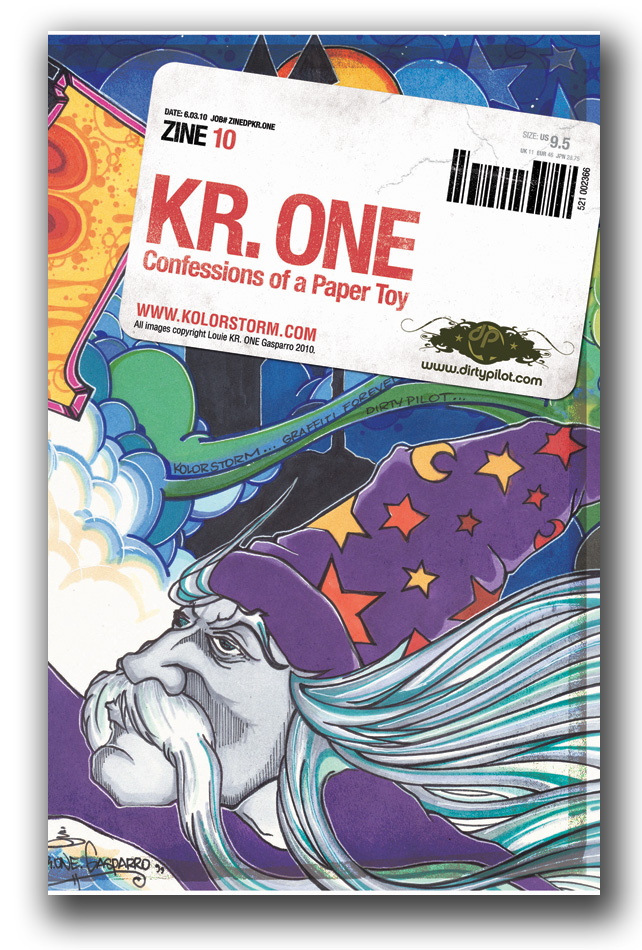 http://dirtypilot.myshopify.com/products/kr-one-confessions-of-a-paper-toy-zine
KR. ONE 
Confessions of a Paper Toy
Full Color Zine 

Check out this dope new zine br KR. ONE- Titled "Confessions of a Paper Toy" An amazing 32 page full color zine full of new and old work by KR. Measures 5.5×8.5, edition size 100. Each zine is hand signed and numbered by KR. ONE. Published by DirtyPilot Press.
Louie aka KR.ONE, Gasparro is a self taught natural artist. inspirations/influences range from Sat. morning cartoons, 1960's and 70's underground comics, rock album cover/poster art and the rolling art of NYC Subway Graffiti. Specific influences include: Roger Dean, Rodney Matthews, Vaughn Bode, Bernie Wrightson, Alex Nino, Josh Kirby, Syd Mead, Frank Frazzetta, Dan Merriam, DON 1, TRACY 168, ROTO, SON1, PRO1, and KEL139. Louie absorbed the early to mid 70's graffiti metamorphosis and in 1977 took the name KROME later changing it to KR.ONE. New York City's MTA subway RR, M, L, J, A, B, 2 and 5 lines became the surface choice of this emerging artist's creative expression. In 1982, Louie put his late night subway excursions on pause to begin his musical career playing drums and guitars. He has written music and drummed for such legendary NYC bands, MURPHY's LAW, LORDZ OFBROOKLYN, BLITZSPEER, SUPERVILLAIN and RESURRECTION SORROW.
Also, don't forget to check out KR.ONE prints in our DP Editions section.