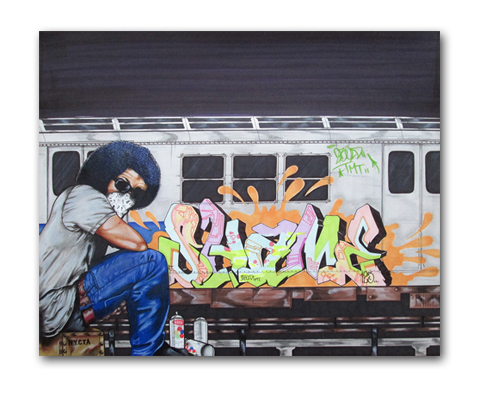 http://www.dirtypilot.com/show1-1.html
DirtyPilot Presents – SHAME 125 – Works on Paper
Today – through June 7, 2013.
In graffiti there are a slew of writers' writers, guys who were prolific stylists that for some reason slipped by the radar . Anyone who followed the culture in the 80's or was lucky enough to paint with Shame 125 aka Much 107 knows that he rocked hard. Simple clean letters with pristine characters. A disciple of Skeme who painted with DEZ and a slew of other heavy hitters of his era, Shame 125 dropped out of sight in the early 90's. He got busy on a freight with SAK and Slave a few years ago and has been painting the town lately.
His career on trains began on the 6 line around '83 with Brim. They were amongst the first members of TAT's . Mack also partnered up with them. Shame's talent made him a sought after partner. He met Raz, who introduced him to SEEN UA and pilgramages to the ghost yard circa '84 became commonplace. During this period he would often collaborate with Cem , Kenn , T.KID , Bio , Lase and Raz who would execute an army of memorable cars that set the style standard of the day. Shame even made a cameo appearance on the #1 Broadway line, blazing a two man panel with DERO. He quit the trains in '87. The baddest cats in the game speak of him with extreme reverence, but he's a humble cat who'd never toot his own horn.