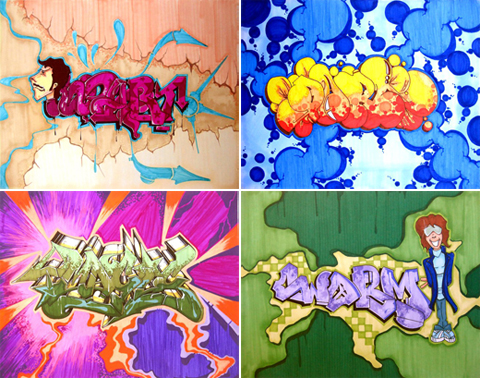 http://www.dirtypilot.com/lounge.html
DirtyPilot.Com presents PART ONE.
PART ONE is a veteran of the golden years of New York City subway painting and considered a style master in the graffiti world specializing in his own brand of lettering which he started to develop in 1974. From 1974 – 1985 he was one of the most accomplished artists on the New York City subway trains, in 1985 he took a brief hiatus from painting only to return in 1990 as a leading figure in the re-emergence of wild style pieces in murals in Harlem.
His art has been featured in the classic film Style Wars as well as the critically acclaimed book, Martha Cooper's Hip Hop Files, and most recently the books, Burning New York, and Graffiti Planet. PART is active today painting both on canvas and on walls around the world. He was most recently the featured artist at Kosmopolite, the international graffiti event, in Paris.
This dope body of work includes new work rendered from original outlines from the mid 1970's.
Recent work by PART ONE graces the cyber walls of Dirty Pilot
Oct 15th- Nov 15th.