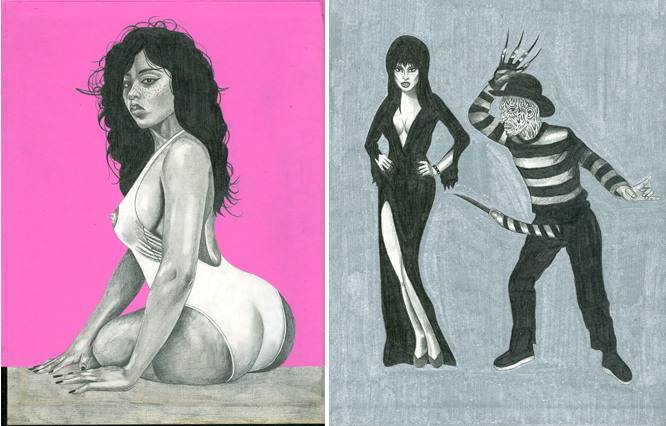 http://www.dirtypilot.com/lounge.html
Welcome back to one of our favorite good guys and dope artist-ALBERT REYES.
Now showing March 9th – April 15,  Albert's signature drawings and paintings on re-purposed book covers covers along with new  prints.
Albert Reyes has been known to spit art on his hands and knees with a mouth full of beer in the middle of the street. He has also shown in a gallery along with a painting by Picasso. These same strange dualities and juxtapositions are highly prevalent in his work, which tackles both conceptual and graffiti art. Recognized for his ubiquitous "GIVE" tag, Albert has a distinctive artistic approach inspired not only by street art, comic books, and American pop culture; but also by contemporary and classical "high art". Many of his drawings and illustrations incorporate everything from icons of corporate America to Hollywood stars to mass media to politics to consumerism. Reyes has exhibited at the Tree House Gallery, JUNC Gallery, Bent Gallery, Giant Robot LA SF NY, New Image Art Gallery LA, Upper Playground SF, Low, Balazo, Ampersand, Stay Gold Gallery NYC, Studio Number One, and in Paris, France. He has done album cover artwork for the band Le Rev and singer/songwriter Simone White. He has also appeared in the New York Times: Year In Ideas, Swindle, Chicano Art Magazine and appeared on Jimmy Kimmel Live, CW's Online Nation, and CNN.