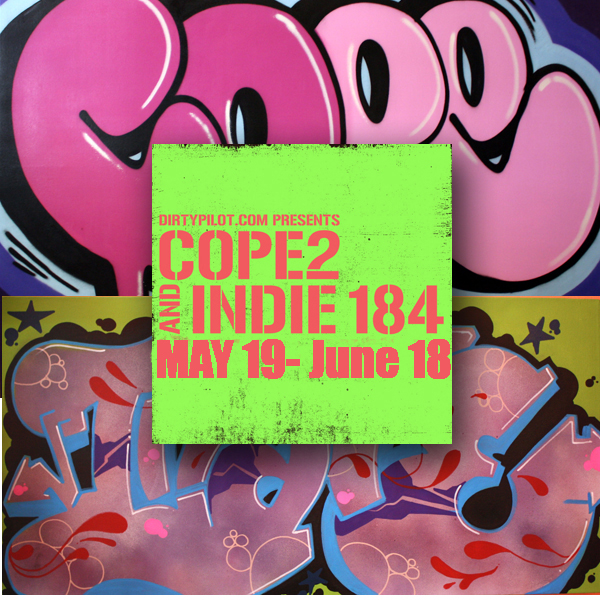 http://www.dirtypilot.com/lounge.html
DirtyPilot.com Presents: COPE2 & INDIE184 Starting today – through June 18. An amazing 2 person show featuring new and older works. Collaborative and solo canvas and paper artworks.
Indie184 is a graffiti artist and graphic designer hailing from Washington Heights, New York City. Growing up all over NYC she began to participate in the graffiti culture in 2001. Determined to express herself to the world through art, she quit business college to teach herself how to sew, paint and produce graphic design. Influenced by all things colorful, happy and sexy. She is known for her classic New York simple yet playful feminine graffiti style infused with exuberant bold colors bursting with hearts, stars and bubbles. You can find her graffiti pieces in the streets from the South Bronx to Oslo. Indie's graffiti was featured the record breaking Rockstar Games' Grand Theft Auto IV video game. Her current endeavors include directing her streetwear brand Kweenz Destroy, curating art exhibitions and producing graphic design work for Pro-Keds, Super Rad Toys and Bic Plastics to name a few. Catch her painting in the streets, studio or or producing her next fashion collection.
Cope2 was born and raised in the South Bronx, New York City, in 1968. COPE2's paintings have been exhibited in solo and group exhibitions in galleries and auctions throughout the United States and abroad. He is a self taught artist who is a celebrated figure for over 30 years in the graffiti art culture. One of New York City's most prolific graffiti artists, he began tagging his name in 1978. He developed his style in the subways and streets of the Bronx throughout the 1980's and 1990's achieving international recognition for his distinctive style. Today, you can catch Cope2 in the studio painting, bringing his raw energy into abstract masterpieces, intertwined with his trademark bubble letters and tags on canvases. He has also delved into curating successful group exhibitions. Cope2 crosses between art world, mainstream and street culture alike.