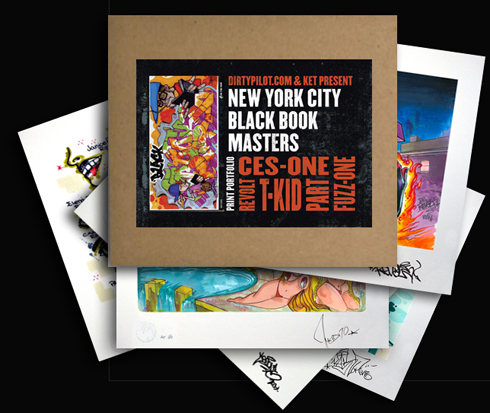 http://www.dirtypilot.#mce_temp_url#com/homegrownprints1-11.html
DIRTY PILOT EDITIONS PRESENTS "NYC Black Book Masters " Print Portfolio PART ONE, CES ONE, REVOLT, T KID. AND FUZZ ONE .
Each print Hand Signed and Numbered by the Artist . Buy all 5 in portfolio for $300
"NEW YORK CITY BLACK BOOK MASTERS PORTFOLIO " 5 prints total, each print is 13"x15.75. Printed on Moab 300gms fine art paper with a hand deckled edge. Each archival pigment print is from an edition of only 40 with matching numbers and each print hand signed by the artist. Portfolio also comes in a corrugated folder with custom label.