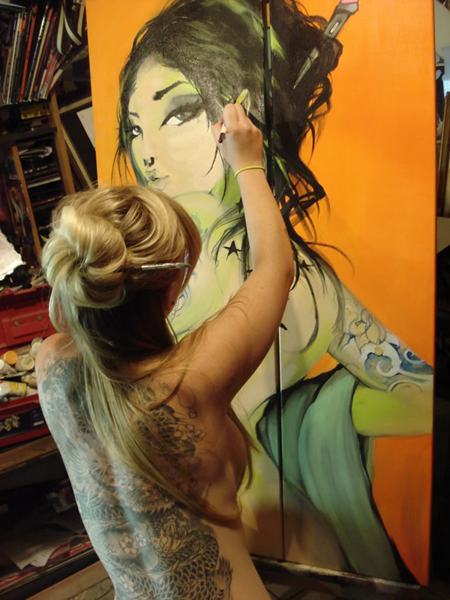 DirtyPilot.com presents KOPYESON Recent Work
Check out graffiti writer/artist KOPYESON rocking some crazy characters on canvas and works on paper. A true aerosol spray can master.
The San Fernando Valley and greater Metro Los Angeles area have provided a challenging backdrop for much of Kopyeson's work. It has served both as a playground and a classroom. In Kopyeson's words- I've been writing copy since Jr. High. Instead of paying attention in class, I would always be drawing. There was this girl who'd let me copy her homework thus calling me Copy, Kopye, Kopyeson and Fukusya. Fukusya is Japanese for "to copy," given to me by my Japanese girlfriend. As a fan of Japanese art I enjoy creating characters and drawing females. Appreciating the woman's body. My style is raw and sketchy, gritty and grimy. Clean lines don't exist. Characters are often correlated to my emotions. Some days silly & devilish. Other days sad. There are days where I have this intense creative drive and just spitting out crazy ass wild characters.
Kopye is a rising star in the West Coast art scene showing though out the San Francisco and Los angeles areas. DBRLA gallery, 33gallery, Crewest, to name a few as well as being sponsored by both IronLak and Belton.
These amazing works grace the cyber walls at Dirtypilot now through Oct 15th.