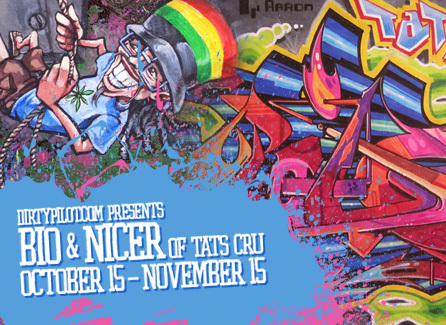 http://www.dirtypilot.com/lounge.html
Tats Cru, Inc. is a group of Bronx – based professional muralists whose work in aerosol has challenged the perception of graffiti as art. Twenty-four years ago, three teenagers began their artistic careers by creating subway graffiti. What began as a recognition tactic has evolved into a powerful, expressive style that has brought Tats Cru to the forefront of Mural art. Tats Cru has spearheaded the battle to change peoples perception of graffiti art. Proof of their success and the acceptance of graffiti as an art form has been their work for the Smithsonian's Institute 35th annual Folklife Festival where Tats Cru was chosen to represent New York City Muralists. Tats Cru's work now adorns several NYC Public Schools and hospitals. In addition to their work reaching new heights, Thats Cru has also lectured at Hunter College, M.I.T. University of Massachusetts, Cortlandt University, Brooks School and many community based organizations.
Tats Cru's work has been featured in the New York Times, New York magazine, USA Today, Vibe, Associated Press, The Chicago Tribune, Mass Appeal and many others. Their art has been included in such books as Spray Can Art, The Art of Getting Over and R.I.P Memorial Wall for which Tats Cru mural was chosen as the cover art..
This month we welcome to important members of Tats Cru, BIO and NICER.
Wilfredo "Bio" Feliciano is considered to be one of the top stylists or letter masters throughout the movement worldwide. Known for his many letter styles, complex and intricate wild styles as well as his explosive use of colors. Bio is known as a true master of New York style painting.
Wilfredo "Bio" Feliciano is also a founding member of the world famous art collective known as Tats Cru "The Mural Kings" originally known as TAT Cru founded by Brim, Mack and Bio in the eighties. Tats Cru continues to be a major force in the advancement of graffiti art both commercially and artistically. Tats Cru's current active members are Hector "Nicer" Nazario, Sotero "Bg183" Ortiz, Raoul "How" Perre, Davide "Nosm" Perre and Totem2.