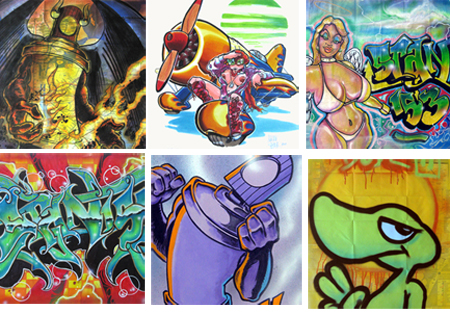 http://www.dirtypilot.com/show1-1.html
DirtyPilot presents REVOLT, MARK BODE & STAN153. A survey of work that includes new works on paper, Hand painted NYC subway maps, collaborative pieces as well as works on canvas. These works will grace the cyber walls at Dirtypilot now through July 22th.
Born and raised in New York City, with graffiti roots in the early 70's, REVOLT is an original member of the historic NYC subway graffiti crew, The Rolling Thunder Writers (RTW). Known for his ultra-colorful tags and elaborate pieces on the Broadway #1 line, with heavily influenced psychedelic and comic art stylings, and later, taking it "all-city". With contributions to the seminal classic hip-hop films, "Wild Style and "Style Wars", his participation in the 80's East Village art gallery scene, various music videos and, album covers, animation, comics, vinyl toy design, and creating the classic "YO! MTV Raps' logo. His early 80's tour of duty in the city of Baltimore is legendary, where he, like a "Messenger of Style", singlehandedly kick-started a graffiti scene there that still feels his influence today. Revolts place in the history of "graff-dom" is set.
Mark Bode was born in Utica, New York. He is the son of the legendary cartoonist Vaughn Bode. Mark is best known for his work on COBALT 60 and as the creator of the hit comic Miami Mice. Bode attended The Art School in Oakland, California. His first professional job was for Heavy Metal Magazine when he was asked to color his father's black and white strip Zooks, the First Lizard in Orbit when he was fifteen. He was a fine arts major at The School of Visual Arts in New York City and studied animation and etching at San Francisco State University. His publications include GYRO COMICS, TEENAGE MUTANT NINJA TURTLES, COBALT 60 (the graphic novel), GWAR comics and LIZARD of OZ.
In his spare time, of which there isn't much, Mark occasionally performs the Bode cartoon concert, teaches art, plays New Orleans style piano and zydeco accordian. in the near 30 years of Mark's professional career as an artist, Marks work has appeared in HEAVY METAL, EPIC MAGAZINE, PENTHOUSE, HUSTLER , GAUNTLET MAGAZINE, WHILE YOU WERE SLEEPING , GRAPHOTISM, among many, many other magazines and comics. He has had articles featuring his work in the NEW YORK TIMES, SAN FRANCISCO CHRONICLE, JUXTAPOZ and TABU TATTOO. Marks work has been exhibited in the New Museum of Contemporary Art in New York, the Psychedelic Solution Gallery in New York, Upper Payground Gallery in San Francisco, and has had art shows abroad in Berlin, London, Milan and Barcelona.Mark has designed multiple vinyl toys based on his fathers characters for Kidrobot and Mike Company in Japan and now Planet 6 in New York.Mark has worked with major clothing companies and has produced very popular Bode crossover lines of clothes for Marc Ecko clothing, and most recently and ongoing "Puma International " where he has designed the Cheech Wizard Puma gear that is on multiple hot pic lists internationally.
Mark has just signed a deal with Universal pictures for the rights to "COBALT 60″ to be produced as a live action movie, directed by Zack Snyder of "Dawn of the Dead (the remake)", Frank Miller's "300", and now his smash hit "The Watchmen"!!! Mark is working on another chapter in the Cobalt 60 story.
STAN 153 started in 1970 in Harlem on 153rd street and 8th Avenue. He was one of the original 3 Yard Boys and one of the founding members of Master Works Productions. He has coloborated and painted with almost every top aerosol artist in New York City. From the seventies to the nineties he has been involved in the graff movement and has done 40 shows in the U.S. and Europe. He has been documented in the first graff book ever, The Faith of Graffiti by Norman Mailer, back in 1974 andGetting Up 1984 by Craig Castleman. His clothing has been featured in Fresh the book of Hip Hop by Susan Finkler. STAN's work has been displayed at The Tunnel, Baktuns and other venues.