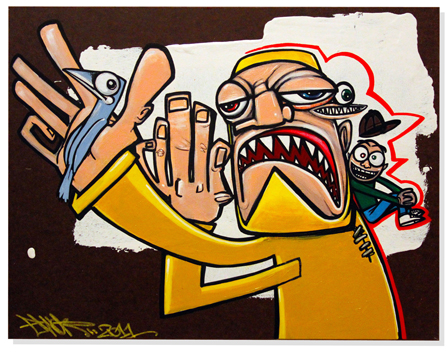 http://www.dirtypilot.com/show1-1.html
It's been a long time coming, today is the Premiere of MR-EWOKONE'S solo show on Dirtypilot, where we will be making available over 70 small pieces, with a wide range of prices from reasonable to absolutely rediculous, haha. But the rediculous prices are based on special original drawings of iconic stuff you will recognize immediately, which are all one of a kind. It will be an awesome show with a broad spectrum from EWOK ONE'S creative side.
So for anyone who thinks they've created a psychological profile based on his art they've seen prior, you will be confused and amazed after a look through the show. Enjoy!
EWOK 5MH Born1976. Currently resides and paints from his ultra lavish penthouse studio in Downtown Brooklyn, where he relocated to in 1996(from upstate NY) to attend Pratt Institute. 4 years later graduating with a BFA in Traditional Animation. Today Ewok's work is most recognized for its distinctly warped character style and colorful play on "fine art" that has been shamelessly mimicked by the commercial art world time and again over the last decade. His original works have been exhibited in galleries (and in the streets) spanning the U.S., Japan, Indonesia, Canada, Puerto Rico, and Mexico. With his sights aiming even further, Ewok continues to reinvent himself while blood sucking trend vultures hungrily keep chase and develope entire careers based off of watered down, recycled EWOK 5MH concepts. EWOK 5MH this, EWOK 5MH that, blah blah blah EWOK 5MH doesn't sleep till 6 am almost every day, can fly in his dreams, survives by eating gold nuggets, looks at porn in the afternoon while the majority of the world is getting verbally abused by under qualified bosses with inferiority complexes..
MR – EWOKONE- Now showing through June 15th