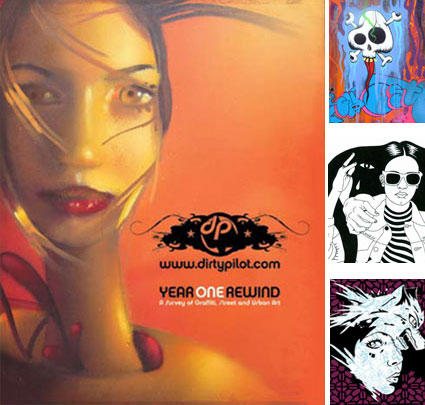 DirtyPilot.com  is releasing their first hardcover book Titled "YEAR ONE REWIND" each Deluxe Edition Book will be signed by various artists (at random) and will also come with a choice of one of 3 limited edition prints.
GHOST – 8″x10″ archival Pigment print, hand signed and numbered. Ed: 50
ALBERT REYES – 8″x10″ one color silkscreen with hand embellishing. Ed: 50
PAPERMONSTER- 8″x10″ 2 color silkscreen, hand stencil embellishing. Ed: 50
Year One Rewind featured artists include up and coming talents along with established artists, such as Chris "Daze" Ellis, Kime Buzzelli, Bravo Jet, Albert Reyes, Papermonster, Chris Stain, Ghost, Ewok 5MH, Cern YMI, Dennis McNett, Greg Gossel, Stephen Tompkins, Enrique Martinez, Justin Bua, Michael Krueger and Daniel Johnston
A sturdy, 96 page hardcover compellation of shows, Dirtypilot.com Year One Rewind dedicates from two to six pages of illustrations of each showcased artist as well as the dates the artists showed their work on Dirtypilot.com. It also delivers biographical sketches on each contributor. The book's introduction by offers insightful background information on the origin and focal point of the Dirtypilot site. If you're passionate about urban art and urban artists and want to learn more, Dirtypilot.com Year One Rewind is a visual treasure trove for collectors that you won't want to be without.